Patrick Palmer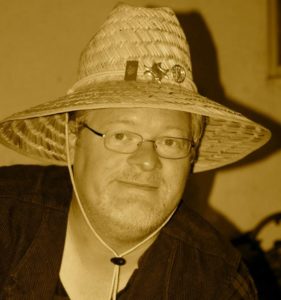 Bios
Short Bio
Patrick Palmer performs and creates music. He performs best on his English Concertinas; sight reading, as well as with live music performances. Improvisation with live music is his strong suit. He's sung and performed concertina on a medieval Yule album with Cliar Cu Buidhe in 2010. He currently performs with Gallows Humor, a comedic/spooky band, as well as with Cutthroat Reef, a sea shanty/pirate band. He travels with both bands to various Renaissance Faires across the Southwest.
Patrick does web page design and development for both bands, honing and perfecting his computer skills to fill a niche for smaller bands needing a better online presence. He's involved in band marketing, social outreach, and is involved with band management and event coordinating with Gallows Humor.
He's currently enrolled at El Camino College pursuing an AA in a Commercial Music Degree, as well as Avid Pro Tools certification. Working towards a music degree, he's also in the the Vocal Applied Program, strengthening his singing abilities as well as general musical skills. He's a musical jack-of-all-trades, but most of all loves making music.

Long Bio
Patrick Palmer has been performing music since he took piano lessons as a child. When he became bored with the piano, he took accordion lessons at 10 starting his bellows and reed instrument interest that continues to this day. He continually seeks out unique and interesting instruments to play, from harmonicas to hurdy-gurdies.
In 2015 his career direction changed, and since leaving the field of software development, he's devoted his life in the pursuit of musical endeavours. He is currently enrolled at El Camino College in the Commercial Music program, improving his music theory skills, vocal skills, as well as music skills, and working with Avid's Pro Tools to produce and mix music.
Since 2008, Patrick has spent time performing medieval/renaissance music in a medieval recreation group, including contributing concertina and vocals on Cliar Cu Buidhe's 2010 Yule-themed album, "Wassail."
In 2018 Patrick started performing with the "undead Romani gypsy" band, Gallows Humor. Gallows Humor performs "macabre and comedic" music, more fitting for Halloween or at any party for the undead. They currently tour the Southwest performing at various Renaissance Faires, including Big Bear Renaissance Faire, and Koroneburg Renaissance Festival. Patrick's concertina fits in well with the sound of the band, complementing the sound with the lead singer's accordion, as well as the band's current lineup with drums, bass, and guitar. He's revamped Gallows Humor's we bpage, adding programming elements to improve the look of the page, displaying an up to date schedule, as well as displaying the next performance on the main page. He assists with contracts and scheduling future performances for Gallows Humor.
He additionally performs with the sea-shanty, pirate band, Cutthroat Reef. Playing concertina and vocals on sea shanties, he enhances their sound, and helps give Cutthroat Reef an improved stage presence. Oftentimes Gallows Humor and Cutthroat Reef can be performing at the same venues, where Patrick will found doing double-duty in performances lasting all day.
Patrick is currently working with Avid's Pro Tools mixing software and is working on Pro Tools certification by the end of 2019. He intends to continue to use his computer knowledge and skills to help produce and make music, as well as other aspects of music production, such as managing a band, scheduling, and even computer details such as web page development, marketing, and social media. He's a real Renaissance Man, when it comes to all aspects of the music whether writing, performing, or recording.

Current Bands/Projects
Previous Projects
Performances
Past Performances
Fall Escondido Renaissance Faire, Escondido, CA, October 26-27th, 2019 – Gallows Humor
ECC Chorale – Flower Power and Disco Hour – Peninsula Community Church, Palos Verdes, CA – November 1st, 2019
Fall Escondido Renaissance Faire, Escondido, CA, November 2nd-3rd, 2019 – Gallows Humor
Future Performances
Photos
Expand...
| | |
| --- | --- |
| | |
| | |
| Patrick with Gallows Humor | Patrick with Gallows Humor |
| Patrick with Cutthroat Reef | Patrick with Cutthroat Reef |
| | |
Audio
Expand...
Videos

"Danny Boy" – The Fools and the Fae – Off Kilter Kilts, August 27th, 2016
Contact
Contact Form